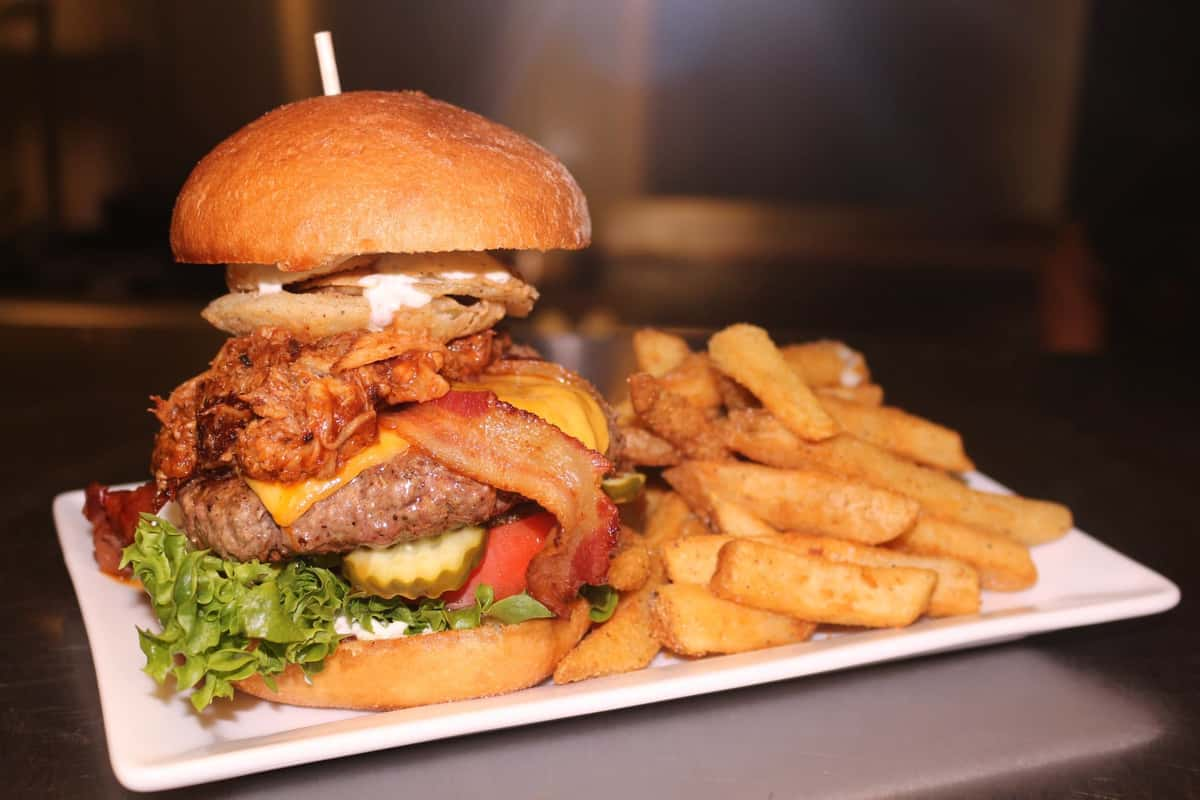 Dine in Menu
Become a VIP
Receive updates on special events, new menu items, menu reviews, and more!
Dine in Menu
Public House Wings
Sauces & Rubs: Buffalo • Chipotle Honey BBQ • Sweet Thai Chili • Blackened • Lemon Pepper • Mango Habanero • Korean BBQ • Teryaki

Served with choice of ranch or bleu cheese.
Poor Man Pizzas
A piping hot Italian bread hand-held pizza served with tomato sauce & mozzarella cheese.

BYO Pick 3 Ingredients:
Pepperoni, Sausage, Applewood Bacon, Pulled Pork, Ham, Fresh Jalapenos, Pineapple, Artichokes, Carmelized Onions, Black Olives, Portobello, Sautéed Peppers, Sun Dried Tomato, Pesto, Ricotta Cheese
Public House Burgers
Make it a public pounder for $4!
All burgers served with lettuce, tomato, & pickle

Cheddar • American • Provolone • Bleu Cheese Smoked Gouda • Swiss
You may substitute: a veggie burger or turkey burger for any burger
Gluten-free bun available for $1
Fresh Salads
Additional Salad Toppings:
Salmon (Grilled or Blackened) $5
Chicken (Grilled, Blackened or Fried) $4
1 /2 Lb Angus Ground Beef Patty $4
Roasted Mediterranean Vegetables $3
Veggie Burger $4
Public House Pizza
Freshly Baked, Hand Tossed Pizza
Build Your Own Pizza.
$19.95 Cost of toppings plus
Hand tossed 17'' cheese pie plus choose your choice of toppings .
Extra Cheese
+$2
Fresh Jalapenos
+$2
Caramelized Onions
+$2
Pineapple
+$2
Black Olives
+$2
Sauteed Peppers
+$2
Pulled Pork
+$2
Sausage
+$2
Ham
+$2
Salami
+$2
Blue Cheese Crumbles
+$3
Ricotta Cheese
+$3
Portabello
+$3
Artichokes
+$3
Sun Dried Tomato
+$3
Kalamata Olives
+$3
Prosciutto
+$3
Applewood Bacon
+$3
Fried Pork Belly
+$4
Buffalo Chicken
+$4
Spinach
+$2
Tomatoes
+$2
Fresh Garlic
+$3
Fresh Basil
+$3